Cristina Coelho
London's Bespoke Facial Specialist
Specialist skin expert, Cristina Coelho is one of London's most coveted facialists dedicated to high end bespoke facials utilising CACI and Environ to promote youthful rejuvenation, skin health and radiance of her discerning clientele.
With over 10 years experience in the beauty industry, Cristina has gained an outstanding insight into achieving exceptional skin results through her unique approach to results driven bespoke facials, tailor made according to the specific needs and requirements of each client.
Throughout her career, Cristina has developed her own unique blend of non-surgical techniques, combined with exceptional skin care products, encouraging results that women admire and desire – resulting in youthful, clean, clear and undeniably glowing skin.
Cristina won the Beauty Therapist of the Year in the FHT Excellence Awards in 2017. These prestigious awards showcase the enterprising and innovative work being carried out by practising complementary, beauty and sports therapists, as well as those setting the bar in education and local support.
Cristina is both trusted and sought after. Her professional excellence, coupled with her detailed approach and highly welcoming and friendly manner, ensures that she is on the speed dial list of women seeking to attain and maintain skin excellence.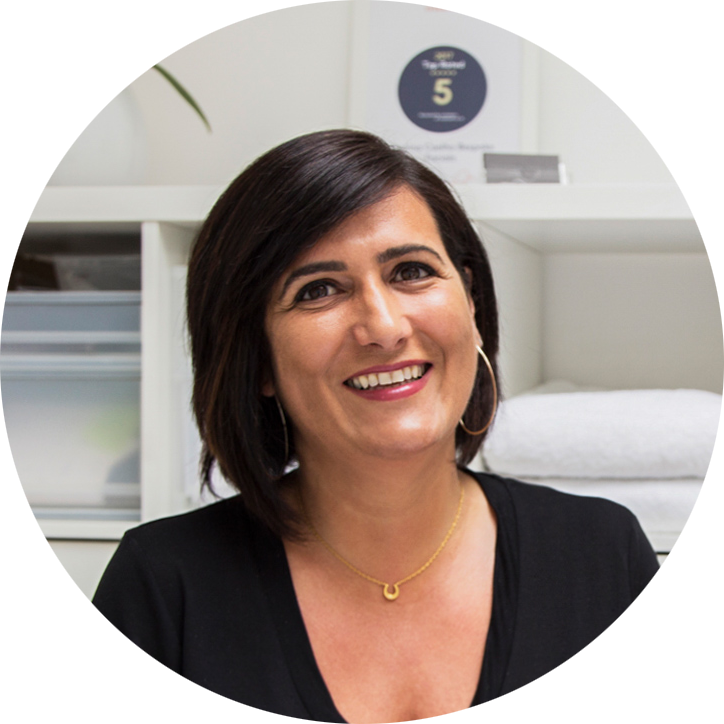 "My passion as a professional facialist is to achieve outstanding results for my clients. With this in mind, I have carefully researched and sourced the best technology and products available, in order that my clients attain and maintain excellence in aesthetics and skin health.
The exceptional CACI Ultimate machine, complemented by leading skin care brand Environ are combined to create innovative bespoke facials that I am confident you will find as effective as they are enjoyable.
I look forward to welcoming you to CC Bespoke Facials"
"Cristina's facials have worked wonders on my skin! I decided to treat myself on facials before my wedding to make sure that my skin was glowing and photo ready and the experience was fantastic! The session was so relaxing and I was pampered and made to feel totally at ease. Cristina fully examined my skin and ensured that the facial I was receiving was tailored to what I needed. She also suggested a few skin care products which I've been using and have absolutely loved! Although the actual experience was great… the results have been even better! My skin feels firm, blemish free and the thick lines that had once surrounded my eyes have disappeared into tiny fine ones. My photos look stunning and I had so many compliments on how beautiful my skin looked. I would highly recommend!"
Filipa Da Silva
"Cristina is somewhat of a perfectionist when it comes to delivering her wonderful tailor made facials, and you will not leave her salon until she has sculpted and plumped your features taking years off you! I have just finished a CACI course with her and am amazed at how visible the results are, lifted cheekbones and eye brows that go up to heaven – in a good way 🙂 even my lips look naturally fuller. Anyone serious about defying the laws of gravity without resorting to surgery needs to seriously book themselves in here!"
Francesca Forcolini
Designer, Labour Of Love
"Cristina's bespoke facials are excellent and properly tailored to my skin needs. Her knowledge and expertise are second to none. Each time I've had a facial, my skin is revived and lifted. I have never had such glowy and firm skin. If you are looking for non surgical results, this is the place and person to go to."
Sophie Grave
Senior Sales Consultant, Christopher Kane
"Fantastic results without the need for needles and fillers. Cristina has been looking after me for over 7 years and provides a completely bespoke service. I have very sensitive skin and always struggled in the past, Cristina takes extra care and tailors every step to suit my skin. I wouldn't be without her."
Helen Hare
Project Manager
"Cristina is very caring and knows her stuff! I can be very anxious and was nervous about the specialist mask treatment, but Cristina was so reassuring. She put me at ease, making me feel comfortable. The result was fabulous. I was so relaxed and refreshed afterwards!"
Folami Bayode
Artist
"I love it when people cannot believe my age, if they ask what is my secret…I say regular CACI facials with Cristina 🙂 Cristina has created a relaxing and welcoming treatment room in the heart of London for her bespoke CACI and Environ treatments. Prevention is better than cure and the results are fantastic. Thank you for my youthful looks Cristina!"
Stephanie Foster
Digital Project Manager
"I had been suffering with painful spotty outbreaks for almost 3 months and was always concerned with ageing skin, but finding a skin specialist to help effectively with these two issues had proved quite difficult. I was recommended to Cristina and was absolutely delighted with the help and treatment. After a full skin analyses I had almost 3 facials in one as the areas on my face required different treatments, my skin immediately looked amazing and I could see the difference straight away! Even up to a week on it was still glowing, my outbreaks have reduced to barely visible and my skin looks fantastic. My home care products are easy to use and I can't wait for my next visit."
Lily
Medical Sales Rep
"Cristina gives the most amazing facial beyond any other because she caters to what you need NOW! She is a true expert when it comes to Environ and CACI and one of the very best in the industry. I did not just come out glowing after my Environ Facial but instantly looked a few years younger. A must-go-to and try………she is a beauty secret worth telling everyone about!"
Beautyandthesnob.com
"As a professional make-up artist, I work in an industry where good skin is a must. I know all the tricks of the trade and have tried pretty much every new facial fad going. It wasn't until I met Cristina and experienced just what a difference that a truly good facial could make, that I knew I'd finally found someone who understood my skin's needs and could make me look the best I possibly could. For me, as I've aged, it's been about trying to regain that youthful glow and re-find my jawline! I'm totally needle phobic and don't want to resort to surgery to keep looking my best and I've found the answer with Cristina's jowl lift facial. Throw in a few sessions of her miraculous microdermabrasion, all using Environ, a skin brand that really is worth the hype, and my skin and face are the best they've looked in years. And, on top of this, Cristina is just the nicest person in the world. Definitely the best investment I've ever made."
Sasha Henderson
Professional makeup artist – Make up Know How.
"Cristina is a miracle worker. I try to go to her regularly and really notice when I don't go. She takes years off with great facials and skin products. If it is natural youthfulness that you are looking for – she's the one. She is also the most thoughtful and kind person – the whole experience is relaxing and reboosting."
Lizzie Francke
Film Exec, BFI
"Cristina Coelho has been treating my combination and very sensitive skin for the past two years and all my friends and family simply can not believe how much the condition of my skin has improved during this time. Not only has Cristina worked miracles on my skin she balances friendliness with professionalism perfectly. Cristina is genuinely interested in helping you as her client, she truly is amazing and I can not recommend her highly enough. I will close by saying, I've had department store facials in the past and they simply do not compare to what Cristina Coelho offers, which are very high quality, personal and relaxing facials at an affordable price in a great location."
Julia Whyte
Stylist
"What a lovely little find! Tucked away on Wimpole Street within a lovely treatment room I visited for my first facial this afternoon with Cristina and what an amazing experience it was! Not only was the treatment lovely but Cristina herself. Automatically I felt comfortable in her presence and she gave really great first hand advise by just taking a quick look at my skin. She kindly went through what I would experience throughout the treatment and also how my skin should feel and look after. Could not recommend Cristina or this treatment higher- I am glowing and my skin feels new."
Jojo
Wahanda
"I had a course of Face Lift treatments with Cristina and I am ecstatic with the results. My face looks younger and the cheeks are now higher (where they used to be years ago!) I am attending maintenance treatments now and have also booked in for an Environ facial. Cristina is very friendly but professional, the treatments are lovely and she paid special attention to the areas I pointed out. I highly recommend Cristina."
El Truchan
Semi-Permanent Makeup Artist
"Cristina is without doubt the best Facialist I have ever had a treatment from. Her treatments are exceptional, bringing about dramatic results, delivered by a true expert in this field."
Meena Kaissi
Manger, Technique Physio